Your visit
Access to the Cathedral is free and without reservation. You can choose to visit it in different ways:
Individual visit:
You can visit the Cathedral freely during the opening hours (see below). You will have access to the naves and transepts, the ambulatory and the side chapels.
However, visits may be restricted or interrupted during religious offices.
Guided tour:
Guided tours are organized at 2:30 pm:

Saturdays and Sundays all year long.
Every day of the week during the school vacations of Christmas, February (zones B/C), Easter and during the summer break (from July to the Heritage Day at the mid-September).

Guided tours will allow you to discover some areas closed to the public: the crypt, the baptistery and the chapel of the Holy Virgin.
Group visits:
For groups (18 people maximum), you can book a guided tour of the Cathedral and the areas closed to the public: the crypt, the baptistery and the chapel of the Holy Virgin.
The price is 3€ per person.
To book a visit, please contact the stewardship of the Cathedral.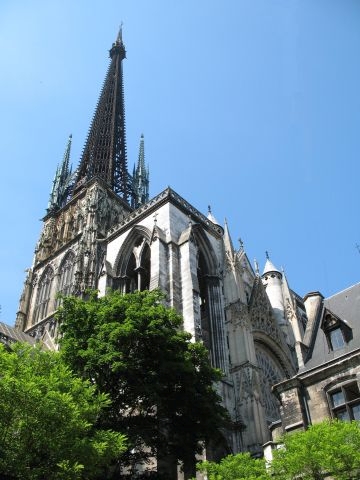 General instructions
The Cathedral is above all a place of worship and prayer. In respect for this place and the people who are there, we kindly ask you to respect the few rules below:
Visitors must have a decent outfit. Men are invited to take off their hats when entering the Cathedral. They will put it back once outside.
It is forbidden to eat or drink in the Cathedral.
Animals are not admitted inside the building (even on leash or in the arms).
In order to respect people praying in this place, please be careful not to make too much noise and put your phone in silent mode.
Thank you for your understanding.
Access to the Cathedral
The Cathedral has several entrances: two doors on the Place de la Cathédrale, one door in the Cour des Libraires (accessible from the Saint Romain street) and a door on the Place de la Calende.
For people with reduced mobility, adapted access is provided by the Portail des Maçons located in the Rue du Change, between the Place de la Cathédrale and the Place de la Calende.
Opening of the Cathedral
Monday : 2:00 pm - 7:00 pm
Tuesday to Friday : 9:00 am - 7:00 pm
Sunday and celebration days : 8:00 am - 6:00 pm
Public holidays except Sunday : 9:00 am - 6:00 pm